PHI is one of the specialized football producers in Europe. We produce quality handmade balls in Pakistan and India, but also promotional balls which are machine gestitched in China. Depending on your needs, your football will be produced in one of our factories in Asia and the Far East. Over the past few years, PHI has done a lot of research in the field of football productions, so we can ensure that the quality is improved and we have developed new materials and designs. So whether it's about balls for promotional use, retro, official training or competition balls, we produce them all and we serve all the clients be it big or small.
We have a variety of materials, such as Ducksong, PVC, PU/PVC, PU, TPU, with or without EVA foam, with different physical characteristics such as metallic, carbon or just shiny. So we can meet almost all your requirements. All of our balls are Phthalates-free and comply with the European standards. Our balls are produced by adults, so there is absolutely no child labor involved. Usually, people talk about leather balls. The real leather balls are no longer in production, because leather material moisturise, so that the ball becomes too heavy to play it properly. Nowadays, only artificial leather balls are being produced. These balls are easier to produce, have almost the same strength and moreover, they are cheaper than the former leather balls. Due to the small moq, we are able to serve all kind of customers, be it small or large. We accept orders from only 300 pieces per style.
Our recent introduction of full color photo balls under license from Nike / KNVB, with pictures of the players of the Dutch National Team has been a great success. These special balls can also be produced with your club or team photo. For full color photo balls, we accept order from only 500 pieces per style.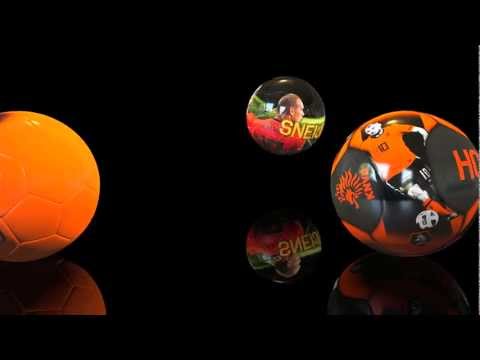 Vorige